WELCOME TO DUNGEON KENNEL 5150
HOME OF THE XXL PITBULL

This site has been updated! Be sure to check out all of our pages to see what you have been missing!
We now have a mailing list and Guest Book
Last updated on this date:
September 5th , 2005
BE SURE TO CHECK OUT THE BREEDINGS PAGE, IT HAS BEEN UPDATED WITH SOME AWESOME NEW BREEDINGS THAT ARE GOING DOWN!

DUNGEON KENNEL5150 WOULD LIKE TO THANK ROYAL PITBULL KENNELS FOR THE GREAT JOB THEY HAVE DONE ON OUR NEW WEBSITE! THEY HAVE DONE GREAT WORK FOR US AND WE COULDN'T BE ANY HAPPIER WITH THE RESULTS...CHECK OUT THEIR SITE BELOW, WE WILL BE GETTING TOGETHER FOR MANY GREAT BREEDINGS IN THE FUTURE.
ALSO CHECK OUT
WE HAVE HAD SOME GREAT BREEDINGS GO DOWN IN THE PAST AND THERE SHOULD BE MORE GREAT ONES TO COME!

CHECK OUT THE DUNGEON MESSAGE BOARD!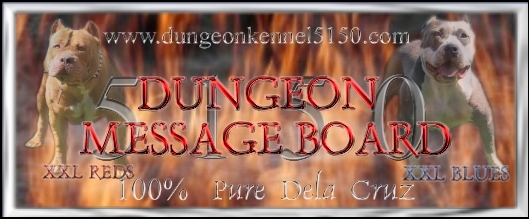 Dungeon Kennel now has a guest book!



We now have a mailing list, join it today so you always
know what is going on at Dungeon Kennel!

Vote for us on these Top Sites!
Look for this banner